Gala July 4 Cruise – Boston to Nova Scotia on Carnival Glory
 A wonderful family cruise opportunity,  sailing from Boston
July 4-9, 2013.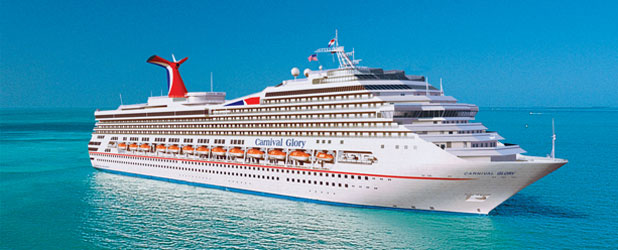 Smiles and Miles Travel has blocked space on an exciting new itinerary for the summer of 2013!
We're inviting our friends, family and YOU to join us as we sail away from the Port of Boston for a five-day fun cruise to Canada.
This vacation is ideal for families from New England, or for those who want to experience the vast history and culture of Boston during HarborFest, followed by a relaxing getaway along the coast of New England and Atlantic Canada.
The simple itinerary includes two ports of call in Canada, and two days at sea to experience the amenities of the ship, most of which are included in the affordable price of the cruise. That's why it's perfect for families!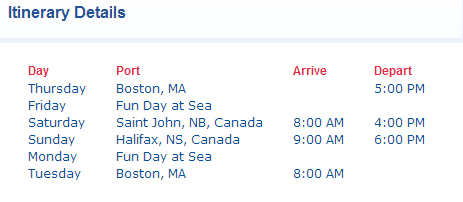 Click here to contact us for cabin availability – or pick up the phone now! Space is limited. 508-238-4088.
Just returning to service after a complete multi-million dollar overhaul, the popular Carnival Glory has added a range of family-friendly onboard features, such as:

Guy's Burger Joint: a complimentary concept venue created by Guy Fieri of Food Network fame. Guy's will offer freshly-made burgers, hand-cut fries and an array of condiments and toppings for a stellar food experience.
Two new poolside adult venues including the Alchemy Bar, a "cocktail pharmacy" where mixologists whip up custom cocktails.
Awesome new shop Cherry On Top, which offers bins of bulk candy, gifts and novelties, custom apparel and more
The Blue Iguana Cantina , a Mexican cantina with authentic tacos and burritos with a salsa and toppings bar
An extensive Kids' Menu, featuring all the familiar options they love at home, like spaghetti & meatballs, chicken nuggets, hot dogs, mac & cheese, peanut butter & jelly sandwiches, and fresh fruit and veggies. Plenty of ice cream and other favorite desserts, too.
Freshly decorated public areas and passenger staterooms with options that will please every size family and every budget.
Red Frog Rum Bar, a Caribbean-themed gathering place featuring rum concoctions and a variety of beers, served in an ambience of laid-back Caribbean relaxation.
The Punchliner Comedy Club & Punchliner Comedy Brunch Comedy star George Lopez is ramping up Carnival's comedy reputation with comedians and an all-new take on the traditional brunch.
Hasbro, The Game Show puts Carnival's passengers at the center of the show through larger-than-life versions of the company's board games
Playlist Productions: a complete renovation of Carnival's legendary stage shows, enhanced with high-tech LED staging and special effects that set a new standard in seagoing productions.
This is a great summer getaway that's a refreshing change the usual'summer at the beach house', and for almost the same cost as staying home!
Don't hesitate! This convenient Boston-to-Canada sailing will sell out! Contact us today to book your party of family & friends!
Our great pricing for this convenient sailing from Boston:
Inside staterooms from $487.00 per person
Oceanview staterooms from $597.00 per person
Balcony staterooms from $762.00 per person

Prices include all taxes